Riding a bike every day is great fun and good for health. Those who are professional, they need the best mountain bike in affordable price that can give the maximum performance. The best mountain bike under 3000 is a high-end one. When you have a price bracket, it gets tough to find the perfect mountain bike for you as there are so many bike brands, and they are offering different mountain bikes.
Best Mountain Bike Under 3000 Dollars
However, we are doing this tough job done for you! If your budget is under 3000 and wants the quality mountain bike in this price range, then these reviews are for you. In these reviews, we are going to review some of the best mountain bikes under the 3000 price segment. So read closely to find your dream mountain bike.
Diamondback Mission 1.0 Bike Review
The Diamondback Mission 1.0 is the mountain bike for whom who love to ride it all. This bike is capable of riding rough and tough terrain.  The latest version of Mission 1.0 comes with some exciting features and specs. The new bike has an aggressive look and bigger 27.5-inch wheel than the predecessor. The Mission bike is based on Diamondbacks highly successful and proven KnuckleBox platform, which while descending, for stability, lowers the center of gravity of the bike.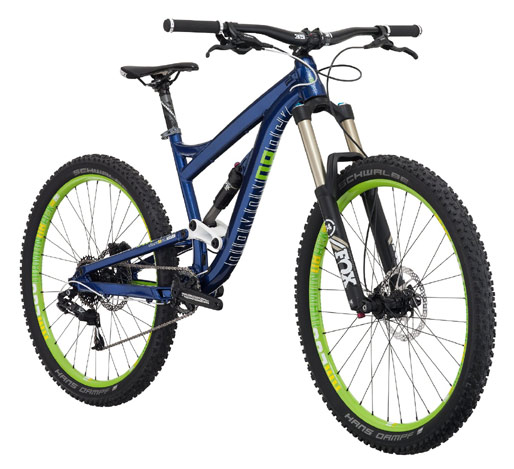 The Diamondback Mission is the Full Suspension Mountain Bike under 3000 price segment, and it has an eye-catching and unique design. This bike will definitely suit your personality and will help you to look more fashionable. The frame of the bike is made of weapon-grade All-Mountain 6061-T6 aluminum. The bike has the hydroformed top tube, as well as, formed and butted seat stays and downtube. The rider will appreciate the shorter head tube and for an ideal balance and stability, the chainstays are sized. The front and rear suspension of the bike is very effective. These suspensions will help you to go over almost any rough trails without fearing rocks, bumpy roads, and crevices.
The SRAM components of the Diamondback Mission mountain bike provide a control drive. The SRAM X5 10-speed gear shifter and rear derailleur SRAM X7 Type 2.1 offers dependable gear selection. A single ring hooks up with a PG1020 SRAM cassette, which ensures a balanced ratio spread to ride in any type terrain. DB Am 320 Double-wall 32H Disc rims, tubeless compatible, are wrapped with Schwalbe knobby for greater handling.
Pros
Attractive design
10-Speed
Hydraulic disc brake
27.5-inch wheels
Cons
Not fully assembled
No water bottle cage
No kickstand
Diamondback Release 1.0 Mountain Bike Review
The Diamondback Release 1.0 is one of the finest mountain bikes from Diamondback. It is an excellent bike for the AM and trail rider who wants smooth and balance performance as well as the value of money. With a performance-oriented lightweight bike frame and great suspension, and top-notch quality components, the Diamondback Release 1.0 becomes the best mountain bike under 3000 in its price segment.  With its performance, this bike will never let you down and on almost any terrain it will push your limits.
The Diamondback Release has a bike frame of the hydroformed alloy aluminum frame. The frame makes the bike lightweight and durable.  It also has a Level Link mountain bike suspension platform.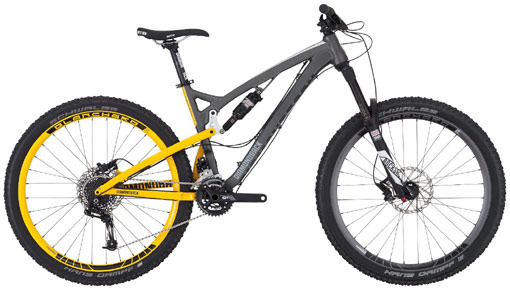 The Release comes with standard 27.5 inches wheels; the Release of the bike provides 130 mm of rear suspension travel courtesy of a Rock-ShoxDebonAir shock, which ensures the ride comfortable and pleasant and takes the bike sting out of the trail. On top of that, there is 150 mm Rock-ShoxYari-RC travel fork suspension complete with compression damping and remote lockout to make sure you ride in control, no matter what type of road and trail you ride in.
Level Link is a short bar four-link Diamondback suspension platform. It is created by Diamondback for their next-generation trail bikes. Level-Link controls the chain growth and isolates horizontal pedaling forces; as a result, it increases pedaling efficiency.
For the best mountain bike, speed is an important factor. A good bike has a greater number of speeds. In the case of Diamondback Release 1.0, it comes with a 20-speed drive train. This increasing number of speed allows you to adjust bike speed according to the road condition. So the ride becomes safer and more enjoyable.
Pros
Attractive design
20-Speed
Disc brake
27.5-inch wheels
Cons
Not fully assembled
No water bottle cage
No kickstand
Diamondback Sync's Review
Need a mountain bike that operates like an all terrain vehicle? The Diamondback Sync is the best mountain bike under 3000 price segment. The Sync offers quick and easy handling and it has a geometry of all-mountain style. This bike gives you the best performance in rough trails and rugged single track.
The Sync's mountain bike has a lightweight aluminum frame with a slack head tube, low-slung geometry, and short chainstays to maintain stability and control on descents and tight terrain. A tapered head tube, wide handlebars, short stem, and aggressive Schwalbe Tough-Tom 2.35-inch wide tires for great handling. A single ring Race-Face Ride 30 tooth crankset and 10-speed 11/36 cassette make climbing and descending easily for the legs and lungs. Upfront, the Diamondback Sync's mountain bike has a 120 mm silver travel fork and beefy 32mm stanchions to take the sting out of rocks, roots, and big hits.
The best mountain bike needs the best quality brakes. For great stopping power, this Diamondback mountain bike has Gemini hydraulic disc brake. Finally, DB Sync saddle and DB rims provide you an unforgettable epic ride.
Pros
Attractive design
Hydraulic disc brake
27.5-inch wheels
Lightweight
Durable
Cons
Not fully assembled
No water bottle cage
No kickstand
Actually good bike always should have the above features if you like riding then you can buy this bike from here by using the bike
Final Words
There are some people who love to use the best bike even though these are pricey. These passionate bikers always like to ride that bike which can give them 100% comfort. Some of the prices of the above bikes is not really close to 3000$ but I can ensure you that these are best performing bike over the years. So you do not need to feel confused to buy a mountain bike which price is under 3000 dollars.