The hybrid bike combines the best features of road and mountain bikes. Sure, a hybrid bike can be a great way to stay fit and get versatile road and mountain bikes. But what are the best hybrid bikes for seniors?
There have always been two types of bike riders. One who loves the efficacy of mountain bikes. The other who loves the design and function of a street bike. Clearly both are not the same and provides different types of facilities. Then one fine day, the hybrid bike entered the chat. And from that day, it became one of the finest combinations of bikes that provides the best from both worlds. Seniors are the one who usually gets the most out of this variety.
Let's talk about some of the best hybrid bikes for seniors
Reviewing & Comparing Best Hybrid Bikes for Seniors
Below we'll compare some popular choices from the recent market. There are complete reviews coming up next right after this table.
Best Hybrid Bikes for Seniors comparison Chart
Schwinn Discover Men and Women Hybrid Bike
The Schwinn Discover is a fantastic pick for those who need the support of sturdy construction and easy to maneuverable.
Highlighted Features of Schwinn Discover
21-speed benefit.
Wheel of 28 inches.
Frame with step-through or step over design.
Multiple color options.
Back swap handlebar.
The Schwinn Discover is an excellent choice for those who want to make their bike rides hill easier. The comfortable paddling is geared well with rear derailleur and grip shifter benefits.
It optimizes a fantastically working linear-pull brake system with gear carrier support as well. The weight is around 36 pounds and that's surely because of its strong built-in. The Schwinn Discover also goes well with 4 finger brake levers. It provides a comfy padded steal to make long rides easy. Also, the Schwinn Discover is a good choice with the swept-back upright style of handlebar that is comfortable to hold. The aluminum frame feels lighter and still provides enough durability. There is also fender support. And so, Schwinn Discover is well with keeping dirt out of the rider's way making it super convenient for city riding.
What We Think About Schwinn Discover
The assembly needs very less time, usually not more than two hours. And that's something very appreciating from a bike that is so strong in built-in quality.
Schwinn Wayfarer Hybrid Retro-Styled Cruiser Bike – The Go-to Pick
The Schwinn Wayfarer is a men and women's bike that comes with a very unique design and at the same time provides fantastic ride experience making it suitable for even bike geeks.
Highlighted Features of Schwinn Wayfarer
7-speed benefit.
Step over or step-through frame support.
Suitable for any gender.
Retro city design.
The Schwinn Wayfarer comes with a strong frame made from quality steel material. It is for sure one of the most stylish looking yet very basic kind of bike that goes well with city rides. It's very comfortable to ride on and provides an excellently working 7-speed twist shifters setting. Along with the uniquely designed rear derailleur support, you can easily change gear with complete access.
There is also a precise safety involved with Schwinn Wayfarer. Thanks to the alloy front and back linear-pull brakes that are super convenient to use. The Schwinn Wayfarer also manages with Fender protection. And so, you don't have to worry about getting splashed suddenly making your foot dirty.
There's also a convenient storage option with the rear classic carrier provided behind.
What We Think About Schwinn Wayfarer
Considering the price, we are surely feeling great about its quality. The Schwinn Wayfarer is super simple to put together and also there's a convenient storage option making long rides a piece of cake matter.
Schwinn Network Hybrid Bike – Smooth, Fast Rides Bike
The Schwinn Network is a marvelous option for any reader who seeks fastens and speed in their future rides.
Highlighted Features
15 to 18 inches frame.
Multiple color options.
Rim brake available.
Easy going hybrid frame.
Limited lifetime supports available.
More Details on Schwinn Network
The Schwinn Network is a very fast and size adjustable pick that makes rides super convenient for bike geniuses.It comes with a very practical budget scheme that suits both those who are starting with biking and also those who are a pro at it.
The lightweight design is supported with a very easy-going designed frame with hybrid styling. It allows for more comfort while on a long ride. The design looks very charming and eye-catchy which makes people have a second look at you while on a ride. You also get a wear helmet with front fork included with the bike package. There's also a lower rear crossbar available with Schwinn Network.
It comes with rim brakes that responses fast ad provides extra support for overall safety. The tires are also well made and it basically complements the strong built that Schwinn Network overall provides.
What We Think About Schwinn Network
The Schwinn Network needs very little hassle for assembling and also, it could be done using three common tools. The overall weight is on the lighter side giving rider complete control over each riding. It's a perfect budget-conscious choice for even those who need something pro more than basic.
Schwinn n Volare Adult Hybrid Road Bike – Looks Pretty, Works Pretty!
The Schwinn n Volare is one of the prettiest designs for a regular bike and along with that it also covers most basic areas of a worthy functioning vehicle.
Highlighted Features of Schwinn n Volare
Aluminum made frame.
Wheels are 28 inches.
Multiple color options.
Strong fork supply.
Smooth gear switch.
The Schwinn n Volare is an ideal fit for those who need something quick to respond when in a tough race or similar situation. It comes with an aluminum rod frame and so, the oval weight is pretty minimal plus easy to manage.
The rigid fork is also included with this amazing bike making it even more convenient. There are 14-speed shifter benefits as well that are super functioning. The rear derailleur comes with precise service and quick gear change makes the whole ride smooth. The Schwinn n Volare also has a strong hand with safety.
It includes a properly functioning caliper brake with an alloy construction. This allows you to get a complete and quick stopping whenever there's a condition. The Schwinn n Volare also comes with a rim that is made from high profile and double-wall alloy. The tires are also very smooth working with a fast and fun experience.
What We Think About Schwinn n Volare
The lightweight and practically priced Schwinn n Volare is a smooth worker when it comes to gear changing and we love that. It isn't the best with seats, however. But still, overall, it's a medium quality feature provider at very affordable pricing.
HH Hiland Aluminum Hybrid Fitness Road Bike – A Unswerving Friend!
The HH Hiland is a popularly loved commuter bicycle that comes with a mind-blowing speed optimization support and a dual disc brake benefit.
Highlighted Features of HH Hiland:
Suitable for men and women.
24 speeds.
Dual disc brake benefit.
Urban style commuter.
Aluminum made frame.
The HH Hiland comes with a strong black aluminum frame that makes the complete weight pretty down. And so, it's manageable on rides that are supposed to be longer than usual.
The mechanical disc brake works very conveniently and responds pretty fast providing a safe situation whenever there's a need. It also includes some easy accessories such as a kickstand, rack, fenders, light, and so on. The hybrid style bike is very versatile when it comes to speed.
There's also a mind-blowing opportunity to enjoy 24 gear change benefits. And that's why rides are so stable with HH Hiland. The whole bike is 85% assembled and you need to only install minor parts for complete use. It comes with a five years frame quality support as well.
What We Think About HH Hiland
The HH Hiland is a beautifully functioning bike that provides high-end unit performance overall. It just could have been better with seats. But still, for the price, the HH Hiland makes a good deal.
Best Raleigh Bikes Detour Hybrid Bike
Highlighted Features
comfortable upright riding 

Shimano EZ-Fire Plus 7-speed trigger

Raleigh Comfort saddle 

V-Brakes

Wide Vie Tire Co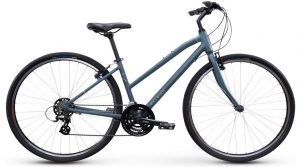 One of the biggest considerations for seniors when choosing a bike is how convenient and easy it is to ride a bike. The Raleigh Detour 1 is a hybrid bike that comes closer to a racing bike than a mountain bike. It can have a stainless steel frame, but that doesn't mean you should forego comfort too.
Raleigh was designed and engineered for comfort. The seating position is vertical to accommodate many older people who simply cannot spend all of their time on the handlebars. It also has more in common with racing bikes, which generally makes driving more comfortable.
Some hybrid games have so much gear shifting that they can quickly become confusing. This complexity is not ideal for parents. Raleigh Detour 1 has seven gears but is easily accessible at a distance with a single shift lever. This means that one parent can take full advantage of a shift mountain bike without having to worry about the excessive complexity of the switch.
The detour 1 was specially developed as a good daily bike for city parks or in the great outdoors. It has a comfortable padded seat, shift lever, upright position, and thick tires, making it a great choice for any parent.
Schwinn Discover Hybrid Bikes for Men and Women
Highlighted Features
Great

suspension fork

21-speed SRAM grip shifter

upright handlebars

Rear carrier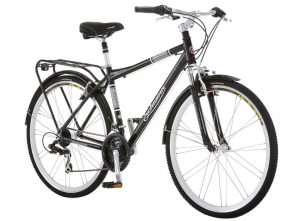 Schwinn is an excellent hybrid game for those who want an easy and comfortable ride. Some hybrid bikes may be closer to mountain bikes than racing bikes, which means they're stronger than comfortable. Fortunately, Schwinn understands that older people also have to drive certain qualities that make them a more pleasant experience.
The aluminum frame makes the bike very light. This is crucial as a heavy bike can be difficult to handle and can make it difficult for older people with arthritis problems. The handles are another notable feature. They are made of double density padded material, which guarantees a very easy and comfortable ride.
The arm of this model is adjustable, which means that it can be made ergonomically more comfortable for an older pilot quickly and easily. In addition, the handlebar is in the rear sweeping position and the seat is upright. This makes it the ideal choice for the elderly who want a more comfortable ride through the city or local park.
How to Choose Best Hybrid Bikes for Adults
Here are some suggestions son choosing the ideal hybrid bike for your everyday or occasional ride comforts….
If you have joint issues, then look for a frame that is less burden provider. Something made of aluminum should work the best for your situation. It should also provide padded seating to ensure proper posture.
Those you don't need to ride very often and probably once in a while would be fine, you should invest in less gear change options. It's best to stick with minimal when you won't really invest much time with the vehicle.
For the best comfort feeling, it'll be nice to have padded seats. But also go for extra comforting features such as padded handlebar. The more in the comfort zone is probably better if you can afford it.
The better adjustability is something you should never turn your back on. Choose a bike that allows swept-back handlebars with adjustments possibilities. So that you can easily maneuver without much complex going around. A seat that can be adjustable is another pro point to consider.
Swept back handlebars and adjustable handlebars are also a great feature because this means that the bike can be adjusted to be more comfortable. When combined with an upright seating position, this makes it a good choice for the senior person who is more comfortable in an upright position, rather than bent awkwardly over handlebars that are too low.
Frequently Asked Questions About Best Hybrid Bikes for Seniors
What is the most comfortable bike for seniors?
Depending on how physically fit a senior citizen is the choice of bike type depends. However, in usual cases, seniors are driven towards the effortless feature and comfort of as well-built hybrid bike recently than never before.
It comes with all the beneficial sides of both road and mountain bikes. And that happens without losing anything for safety. With thickly padded seats and shock absorber benefits, a bike can be the ideal comfortable pick for any senior rider out there.
What bike is best for seniors?
There's no one titleholder when it comes to judging the best out of all. It's clearly your personal preference and of course conditions that you individually are facing. However, for most cases, expect a quality bike to provide good handlebar options, brake, and shifter levers as well as some high number of speed options. For a casual ride through the neighbor or relaxing outing, these sound the best for adult riders.
What kind of bike is easiest to ride?
The priority feature that you should look into for getting an easy to ride comfort is the frame. A wrong frame makes simple rides to hassling and a nightmare you never want to face. So, it's a good idea to invest enough time looking into how the bike's frame is made.
Most importantly, it needs to be less bulky and easy to handle a lightweight frame material that also not lacks in built-in quality should be your number one priority for such wishes and demands.
Final Verdict
And with that note, we have explored some of the best hybrid bikes for seniors that are great with providing access to fun and fitness in a cool way. this popular bike type known as a hybrid is clearly way better for seniors who have physical constraints and concerns. Picking one from