Last Updated on
People are drawn towards the complicated and so-called advanced strategy of various bike types to have more on hand for getting better rides. However, sometimes all you need is the reliability, ease of use, and efficiency of a lighter single-speed version. This is probably the finest way to teach yourself some basic ethics related to biking skills and then try the geared options. And for that approach, looking for an affordable and best single speed bike conversion kit would be the wisest decision you can make.
Comparing & Reviewing Best Single Speed Conversion Kit
Let's not wait any moment and dig right into the complete reviews for the recommendations we have for you. Before that, have an eye on the comparison table below to get a quick idea about these picks.
Best Single Speed Bike Conversion Kit Comparison Chart
CyclingDeal Fixie Bike Single Speed Conversion Kit – Super Simple Installation!
Tuning your Shimano or SRAM into a single speed wheel variant is pretty simple with the CyclingDeal Conversion Kit.
Highlighted Features
Multi-speed to single speed wheel.
Compatible with 7 to 11-speed chains.
Speed spacer included.
Cro-mo steel built-in.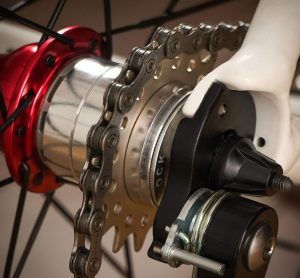 The CyclingDeal Conversion Kit is a convenient and affordable pick for you if there's a need to convert a multi-speed hub into the single wheel speed option. You get to enjoy freewheel hub however since there's no transformation of the hub into fixie with this.  This comes with a sprocket that matches chains of 7 speed to 11 speed. This means a chain width between 1/2″ x 3/32″ to 1/2″ x 11/128″ will work well with the CyclingDeal Conversion Kit.
Other parts that are included with this kit are a single-speed spacer, sprocket and lock ring. Your ideal pedaling ratio is very much possible thanks to the different teeth selections available. Installing using this CyclingDeal Conversion Kit is also relatively easy and relies on the time-saving side. There's a two-year assurance included with this purchase. The Cro-mo steel made sprockets are strong and rigid as well.
What We Think:
Overall, we loved the CyclingDeal Conversion Kit for its simple installation comfort and the cheap price tag. The diameter was a bit off but still the cog's sturdiness, clean results and smooth rides are worth the choice.
CyclingDeal Bike Single Speed Aluminum Chain Tensioner and Kit – Rigid Styled Kit!
You don't need any expensive modification for making geared bikes set on single-speed thanks to the CyclingDeal Chain Tensioner and Kit.
Highlighted Features
Single-speed to gear setup conversion.
Derailleur hanger mounting.
Single and multi-speed chain fitting.
Aluminum alloy built-in.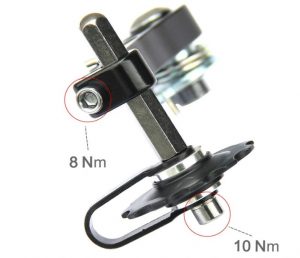 The CyclingDeal Chain Tensioner and Kit is worth the price pick for those who need support for an easy geared bike setup from single speed mode. You can easily mount the chain tensioner over derailleur hanger. And with that simple and cheap modification comfort, there's an effective adjustable tension available.A chain with 3/32 inches width works best along with multi-speed chains. You should use the round or oval-shaped chains for better results though.
Also, the aluminum alloy material makes the rigidity a highlight of this CyclingDeal Chain Tensioner and Kit. Compared to any derailleur style, the CyclingDeal Chain Tensioner and Kit works much strongly and avoids providing any flimsy results and that's a huge relief.
What We Think:
Overall, the CyclingDeal Chain Tensioner and Kit is a bright choice inside this list and we loved how valuable for recreational use it is. The easy adjustment and nice chain alignments are also great sides of this pick. We wish the instruction would be a bit simpler, but still, it's a budget-friendly option to try.
Cervus Bike Single Speed Fixie Cassette Conversion Kit
The CR-MO Steel made sprocket is what you need for your single speed chains and the Cervus Conversion Kit is a great choice for that.
Highlighted Features
Single-speed chains compatible.
Easy fitting.
Splines are elongated.
Vivid color.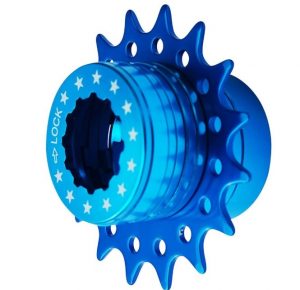 The Cervus Conversion Kit comes with spacers and alloy hub rings made of high-quality materials. You can use these for Shimano and SRAM hubs easily. This variant goes well with single speed chains. The width should be 1/2″ x 1/8″ and 1/2″ x 3/32″ to be compatible with this amazing kit.
You can use this for any MTB and that quality is really up-to-the-mark considering the price of this pick. The elements are very easy to fit and anybody can try it themselves without much experience in such installation. Also, the chains are well held with the elongated splines which are another great point of this reasonable pick. The CR-MO steel made sprocket is good enough to serve you with the right functions for a pretty long time as well.
What We Think:
The Cervus Conversion Kit is a very reasonably priced option that can be a smart purchase for your Shimano and SRAM hubs. It's a nice pick for single speed MTB with a little problem we detected for threading and bulkiness. Apart from that, everything seems pretty good with vivid colors and decent construction.
A2Z Mountain Bike Single Speed Conversion Kit – Make Your Rides Faster!
Your trials, freeride jump and similar needs are in check with the A2Z Conversion Kit for easy conversion from rear free hub to a single speed variant.
Highlighted Features
Easy fitting option.
Freehub to single speed conversion.
Spacers and long ring included.
16 & 18 Tooth sprockets.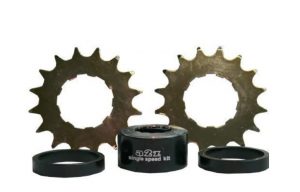 The A2Z Conversion Kit is an excellent option to try with lock ring, spacers, and 16, 18 Tooth sprockets coming along. For the price, you get a strong construction no doubt. Also, it is a fantastic single speed conversion kit to try for any rear freehub. The installing takes a few minutes and anybody who have zero experience with such fittings can even do this without much effort. The conversion is very helpful for trying to freeride jumps when there's a need. Also, it is great for single speed trials. It's a durable piece included kit that you can get pleasing results with and choice of cogs is also on the better side.
What We Think
We would love to recommend the A2Z Conversion Kit for enjoying a faster ride experience. It's one of the finest maintenance steps you can take. The pedal sometimes needs a bit extra force, however. But still, it's a great pick to try that comes within a budget-friendly price tag.
36V 500W 700C Geared Front or Rear Waterproof Electric Bicycle Conversion Kit
With the precisely arranged EBIKELING Electric Bicycle Conversion Kit, converting your bicycle into a more convenient ebike is simple and stress-free.
Highlighted Features
LCD display up-gradation.
No throttle response.
Comfortable wrist positioning.
Significant toque.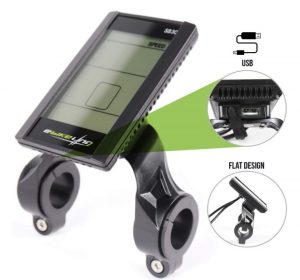 And to make your riding life even more convenient and full of speed, you may decide to turn ahead towards an ebike. Getting the EBIKELING Electric Bicycle Conversion Kit, you can easily enable a quick and exceptional conversion of a regular bike into a convenient ebike in no time.
The kit includes everything you need except the battery and tire. Also, these are super simple to get together through simple guidance. You get the durable aluminum made double-walled rim plus hub motor to get a quick attachment benefit. The LCD display up-gradation provides an excellent battery percentage checking, speed total, and single trip distance data as well.
There's also wattage, PAS levels, and other factors available with this updating. There's no need to worry about throttle response as well thanks to the PAS included.
What We Think:
With a convenient installation, you can avoid those uncomfortable wrist positions getting the EBIKELING Electric Bicycle Conversion Kit. It's a fantastic option for a great torque benefit and also well-made components such as motor hub and motor controller.
How to Choose the Best Single Speed Conversion Kit?
So, how do you know which one out of all these several options will really meet what you are looking for? Let's talk about some common factors that users love to think about to find their finest conversion kit.
Brand Reputation
When you are looking for a single speed conversion kit, you surely need to pay attention to the manufacturer. Probably the one brand that has a good reputation for making kits in the biking industry should be your first choice. They are more likely to produce good stuff that will be easy to use and better quality.
Compatibility
Don't forget to look at the compatibility of your bike with the kit. Does that particular kit match your existing bike's specs well to convert it into a single-speed, you should pay more attention to this fact. Buying something noncompatible will later be a reason for regret undoubtedly. So, make sure you check the compatibility by taking enough time.
Durable Built-in
Of course, a conversion kit component needs to made with durable material. These are going to fit your bike. And anything lacking a proper built-in quality won't be able to provide single-speed benefits for a long time.
Also, without a proper construction, the parts won't last much longer. So, to ensure the durability, peek over the material that was used to make the kit components.
Easy Installation
A conversion kit should include clear and simple instructions for fittings. You don't want to be confused later when the kit arrives at your home and frustrate on how to use it. Since there are varying models of conversion kit, the installation guidance would vary. Also, not everyone has previous experience of using such kits. And so, it's really important to have easy instruction along with it.
Worth the Price
Conversion kits are pretty affordable so you don't need to pay much attention to this segment. However still do some research on how many pieces the kit involves, its built-in quality, and ease of use to validate that the price actually is worth the product.
Frequently Asked Question About Best Single Speed Conversion Kit
What is the best single speed gear ratio?
Usually, the finest ratio for most folks is 2:1. This is basically the gear combo with a chair ring that has a double number of teeth than the cog. The chainring is also known as front gear and cog is called the rear gear. A general variation is 32/16.
Can any bike be converted to a single-speed?
Fortunately, most of today's bikes have this common frame that can adapt a single gear set up pretty nicely. And so, the answer to this query is yes for most cases. You just need to match some common specs to find a compatible kit. However, if you are referring to an old bike, then a horizontal dropout version should be your best bet to convert easily.
Are single speed bikes any good?
Those who are not really interested in complicated rides and rather would love to enjoy the sight while easily biking basically match the idea of single speed bikes more. Here you don't have to take the trouble of shifting gear or paying much attention to the riding process.
Instead, you can devote your time at taking the fun of the ride with low maintenance and general approach. These are straightforward to use as well, even for the first-time bikers.
Wrap Up
So, now you have pretty much a lot of options to pick your ideal best single speed bike conversion kit and try the approach for yourself. Biking is fun and a fantastic way to keep yourself in a good shape while commuting different places. And it's definitely a fantastic thing to try when you think about the whole biking concept and wish to invest for a better ride. Lots of Applause for Your Passion from Our Side!