It is always a good idea to ride a mountain bike every day to work or school. In fact, riding mountain bike every day is a great exercise which helps to improve the condition of your health. Moreover, it really looks cool if you own a beautiful and sturdy mountain bike. However, for a high price tag, for the many people, it is complicated to afford a good mountain bike for above mentioned casual purposes.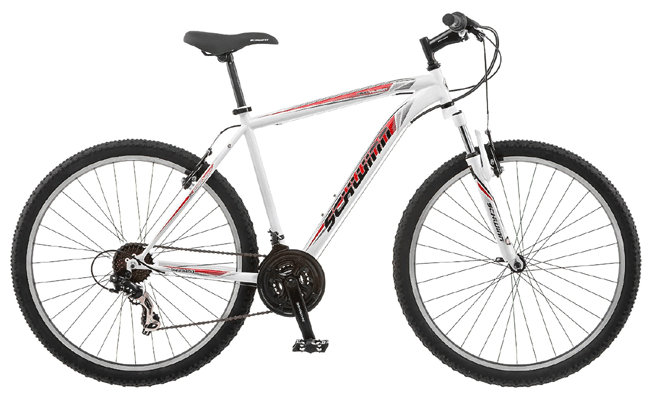 But thanks to the bike manufacturers, for the competitive bike market they have started to produce some best mountain bikes at a low price. Today we are going to introduce you to one of these high but low priced mountain bikes! And today's bike is from Schwinn.
Schwinn High Timber...
Schwinn mountain frame with Schwinn suspension fork for controlled riding on tough trails
Shimano twist shifters with 21 speed rear derailleur for quick gear changes on the trail
All terrain, wide knobby mountain tires sit on light and durable alloy wheels for added stability
Schwinn is always great at making mountain bikes. This time, they have come with budget-friendly Schwinn's 18 inch Men's high timber mountain bike. It is the best mountain bike in its segment, which is for the riders who want to use it for exercise as well as for casual purposes. Let's check the Schwinn high timber bike details in below:
Features of Schwinn high Timber Bike
Design
Schwinn's 18 inch Men's high timber mountain bike offers some great features to its customers. The awesome sturdy designed and white-colored Schwinn's mountain bike makes the owner looks cool and fashionable. Though the steel frame makes the bike a little heavier, it also makes the bike strong and durable.
The Suspension
Best mountain bike needs quality suspension fork, and this Schwinn's 18 inch Men's high timber mountain bike comes with high-quality front SR Suntour suspension fork. Whether it is on-road or off-road, this first SR the Suntour suspension fork absorbs all the shocks and gives you the smooth ride in the bumpy road very well. This bike is suitable for all casual purposes as Schwinn made it hardtail type.
Wheel Size
The size of the wheels of the best mountain bike is also contributed in a great way to its benefits. This mountain bike comes with traditional 27.5 wheels which make the bike lighter and easy to accelerate. Because of this wheel size, this bike is perfect for the casual purpose. As the wheels are little smaller, it is difficult to overcome the big obstacle.
Drawbacks
There are two sides to a coin. The Schwinn's 18 inch Men's high timber mountain bike is affordable, but it also has some limitations. The first problem is the number of the speed of this mountain bike. It only offers 21-speed, which is a little less compared to the best mountain bike. This 21-speed is okay for the beginners, but for the advanced rider, it is low. So if you are an advanced rider, then you may not be able to enjoy the ride to the fullest.
Another problem with this bike is that it comes with a linear-pull brake. Nowadays not the only best mountain bike but also a cheap bike comes with disk brake.  Linear pull brake is not that reliable compared to the disk brake.  The experiment on the different brake shows that the performance of the disk brake is better than the linear-pull brake.
However, because of this price point and as this bike is for casual use, all these bike problems are forgivable.
Pros
Easily can be assembled

Pleasing aesthetically

Very sturdy design

Bike is upgradeable

Affordable price

Ensures smooth ride

Smart looking design

Kickstand included

Height cab is adjusted easily

The saddle can be released quickly
Cons
Requires some additional component replacements

The seat is a little uncomfortable

The bike does not come with any water bottle provision

Pedals of the bike are plastic

Does not come with disk brake
What are the other Top Schwinn Mountain bikes List?
Schwinn Volare 1400 Road Bike
Schwinn Fastback Carbon Road Bike, Matte Black
Schwinn Sycamore 350 Watt hub-Drive, Mountain
Schwinn Phocus 1500 Flat Bar Road Bike
Schwinn Fastback 1 Road Bike, Grey
Schwinn High Timber Review  in Short Video
Others Things of this Schwinn Bike
Another great advantage of this quality mountain bike is that it can quickly release the saddle, according to each peoples height it can be easily be adjusted. This is one of the most important features of this bike, which makes it suitable for everyone. Most of the bikes are not assembled when shipped, so you need to assemble it by yourself, or you need to take it to a professional to assemble for you. But the problem is most of the people don't know how to assemble a bike. If you are also on this list then good news for you!
Schwinn's 18 inch Men's high timber best mountain bike is almost assembled after shipping and rest of the things you can easily install by yourself by reading the manual.
The biggest benefit of this mountain bike is its price. It is the best mountain bike in its segment, and it cost only about $200. So what are you waiting for! Go and get one.
Some Question That Might cross The Mind
Does this bike come with assembled?
This bike is not assembled. So you need to assemble it. The good news is that you can assemble it by yourself with the help of an instruction manual and it will take around 15-20 minutes.
What is the weight limit of this bike?
Like any other best mountain bike it can handle up to 300 pounds.
Are the stickers or pinstripes of the bike removable?
It is not the sticker; it is painted in the frame. So it is not removable.
Final Words

From the Schwinn high timber review, I can tell that Schwinn has offered a high-quality component with a meager price tag and it is one of the quality mountain bikes on the market in its segment which will surely bring adventure lover in you.

To get the most out of it and for the better experience, you may need to replace and adjust some components when you receive this bike. However, it does not change the fact that it is a good quality and reliable mountain bike and it will provide excellent service.